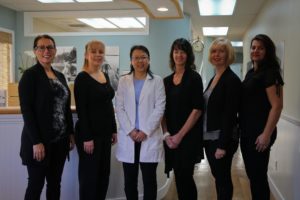 Welcome to the website of Dr. Yiping Song, South Surrey Dentist.
Please note that after hours, current patients can access our emergency number by calling the office.
When it comes to any aspect of your health, it's important that the care you seek is reliable, professional and comfortable.
Dental care is no exception – which is why Dr. Yiping Song treats each patient with one-on-one gentle and professional care.
Comfort, expertise and personalized care are the cornerstones of business for Dr Yiping Song, DDS, PHD, who took over the South Surrey dental practice in the summer of 2016.Dr Yiping Song, DDS, PHD and our staff make it a point to go beyond providing dental care – we strive to provide our clients with comprehensive and relevant information to help them make informed decisions. We also frequently update our dental training to stay on top of the latest technologies and procedures to meet, or exceed, the College of Dental Surgeons guidelines.
Whether visiting for a routine cleaning and checkup, or requiring a dental procedure like fillings or a crown, Dr. Yiping Song and our South Surrey dental team will ensure you feel comfortable and confident with our commitment to a high standard of individual care and attention.
Many families choose to have one dentist care for the whole family. Establishing long term relationships with our dental patients is important to us. It helps us to provide the best oral health care possible. We offer adult and children's dentistry, and first time visits are free for children 2 and under. We provide family dental services including regular check-ups, cleaning, fillings, braces and more. Whether you have recently moved into the White Rock/ South Surrey area and are looking for a new dentist, or simply want a second opinion on dental treatment, we will be delighted to meet with you to discuss your dental care needs. We welcome your family!
Free Consultation is offered on some dental procedures. Please feel free to contact us for more information.